FORD 6V CARBURETION SYSTEMS
This website is a central point for information on the original Ford Factory 6V Carburetion Systems made in the early to mid 1960s for the Ford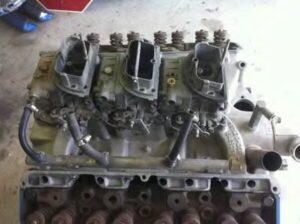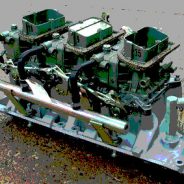 Thunderbird FE 390 V-8s, continuing with the 6V Carburetion Systems for the Ford Windsor Small Block V-8s (260/289) in 1964 and the Ford FE 352/390/406/427/428 V-8 engines thereafter. The  Early 1961/63 Thunderbird 6V option was the only originally equipped Ford vehicle with 6V carburetion. Ford shipped the 6V option in the Thunderbird's trunk for installation by the selling dealer. Ford, beginning in 1964 offered across the counter 6V Carburetion associated with the introduction of the "Cobra" for the SBF and a Galaxy style 6V intake for all FE motors, but only thru your favorite Ford Parts Counterman. The two FE 6V aluminum intakes were different, with the original T-Bird 6V intake being very flat and low in order for the carburetion to fit under the Thunderbird hood while the other intake, or Galaxy style 6V intake was more traditional showing a slight rise from front to back with the intake being taller overall than the Thunderbird intake manifold.
The original Ford aluminum air cleaner introduced with the 1961 Ford Thunderbird 6V Carburetion option was so popular that they modified the bottom plate and began offering it with all the Ford Factory  8V options. The Ford 6V air cleaners are the same for  Ford FE and SBF 6V carburetion setups except the top plates. Each system came with a different style top plate, including the Thunderbird FE, Galaxy FE and SBF 6Vs.
The Tri-Power Bulletin was written to help all the Ford Folks who need help with their own personal 6V Carburetion setup. The website includes a collection of help for the Ford 6V Owner and a means to purchase a copy of the current edition of the Tri-Power Bulletin.
FORD 429SCJ 6V Carburetion-List 4782/83 Carburetors